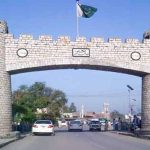 MULTAN: Police have received forensic report of mobile phones of Qandeel Baloch, her brother and accused Waseem, accused cousin Haq Nawaz and Mufti Abdul Qavi in the murder case of Baloch.
According to reports, the police have received forensic report of Qandeel Baloch's iphone and two other mobile phones.
According to the report, Qandeel Baloch last contacted Mufti Qavi on June 22 and had sent him over 10 apology messages. However, Mufti did not respond to any of her messages and phone call
The forensic report shows accused model Qandeel's brother Arif, who resides in Saudi Arabia, contacted accused Waseem and Haq Nawaz several times.
The report has also shown that Mufti Qavi had no contact with model's family but Qandeel was in touch with other friends.
Earlier, polygraph test of suspect in Facebook celebrity Qandeel Baloch honour killing case, Abdul Basit, has refuted police's claim that he did not know about the crime before it was committed.
Abdul Basit was included in the investigations since he had driven two key culprits in a taxi from Baloch's ancestral village Shah Saddar Din in Dera Ghazi Khan to Multan on July 15.