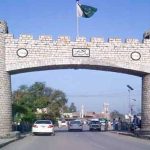 According to police sources, the body was found hanging from in a room inside the lodges. The deceased was later identified as Santosh Kumar.
Sources further quoted police as saying that Kumar had been working as the driver of Pakistan Tehreek-e-Insaf (PTI) member of the National Assembly (MNA) Lal Chand.
However, Chand confirmed that Kumar had committed suicide and added that he had been working for him for the past four to five years.
The lawmaker further said Kumar had a domestic dispute, leading him to take his own life. "He [Kumar] also made a video prior to taking his own life, in which he was heard saying he has had enough of his wife and mother-in-law."
On June 17, the wife of a local leader of PTI was killed in an alleged ambush in Gulshan-e-Maymar on Northern Bypass near the Afghan Basti in Karachi.
Armed motorcyclists opened fire at the car of PTI Maghopir labour division president Isa Khan, injuring Isa and critically wounding his wife, Bakhtawar Khan, 37.
Bakhtawar suffered multiple gunshot wounds, but a bullet to the forehead proved fatal. The funeral prayer of the deceased was offered at around 8pm and she was laid to rest at a local graveyard.
Regarding the incident, West district SSP Suhai Aziz Talpur said that police surveyed the crime scene as indicated by Isa Khan, but they did not find any bullet shells. Police are further investigating the case, she said, adding that it appeared to be a case of personal enmity.