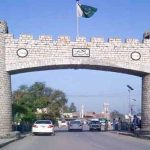 LAHORE: Police on Tuesday launched an FIR of Monday's suicide attack in Lahore's Kot Lakhpat vegetable market, which claimed 26 lives, including that of nine policemen.
The case was registered at the Counter Terrorism Department police station on the complaint of SHO Abid Baig.
Terrorism, murder, and attempt to murder charges have been lodged against unidentified terrorists.
The FIR states police and civil officials of various departments were performing their duty in front of market in Kot Lakhpat at the time of the attack.
Sub Inspector Muhammad Riaz, ASI Faisal, Constables Majid, Muazam Ali, Abid, Ali Raza, Murtaza, Umair Ghani, Faisal Rasheed and civilians Rasool Iqrar Muhammad, Ilyas Bhatti, Muhammad Ramzan, Khurram Nazir, Itrat, Huma Shahzadi and 10 unidentified people were killed on the spot, while several others were injured.
It is believed that around 10-12 kilograms of explosive material was used in the blast.
Investigators, however, are on the lookout to leads into how the attacker arrived on the scene.
The decapitated head of the 'suicide bomber' has also been found from the crime scene.
While police have collected all human body parts and have sent them to the Punjab Forensic Laboratory for DNA testing and forensic analysis, statements of witnesses have also been recorded.