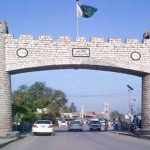 JHAL MAGSI: Police have registered a first information report (FIR) of a terror attack on Fatehpur shrine that killed 22 people.
On Thursday, a suicide bomber blew himself up at the Dargah Fatehpur in the Jhal Magsi district of Balochistan, leaving at least 22 people dead and injuring 25 others.
The FIR has been registered on the complaint of the SHO of the police station concerned against unidentified assailant. Terrorism-related charges have also been incorporated in the FIR.
The latest terror attack targeting a shrine drew widespread condemnation. Among others who condemned the attack was the United States.
State Department spokesperson Heather Nauret condemned the incident saying, "We offer our deepest condolences to the victims and their families, and wish a speedy recovery to those injured." She said the US continues to work with Pakistan and its partners across the region to combat terrorism.
Tehreek-e-Taliban Pakistan (TTP) and other militant groups have often targeted the shrines of sufi saints for not conforming to their rigid interpretation of the teachings of Islam.
Earlier this year, at least 88 people were killed and more than two hundred injured when a suicide attacker blew himself up at the shrine of Lal Shahbaz Qalandar in the shrine town of Sehwan in Sindh.