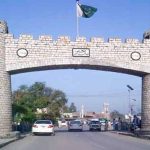 MANSEHRA: An FIR has been registered in the case of four people being electrocuted to death at a school in Mansehra.
Three children and a teacher died after the flag they were trying to lower got tangled in a power line during a morning assembly.
The FIR has been registered at the Balakot police station against the school principal and WAPDA officers.
The police have taken the principal into custody.