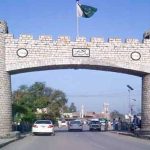 KARACHI: The police on Friday said that as per their initial investigation, it appears that Sindh Planning and Development Minister Mir Hazar Khan Bijrai killed shot dead his wife and then killed himself with the same weapon.
Bijarani and his wife, Fariha Razak Haroon, were found dead Thursday at their residence in the city's Defence locality.
The police also said that Bijarani's domestic staff told the police in their initial statements that the husband and wife had been quarreling about something for the last few days.
In a press release by the DIG South Zone, it was stated that according to initial forensic/ballistic report of Forensic Science Lab, all the bullet casings collected from the crime scene were fired from the same weapon.
"On 1st February 2018 at around 1430 hours Darakhshan police received the information that dead bodies of Mir Hazar Khan Bijrani, Minister Development and Planning Government of Sindh, and his wife Fariha Razzaq Haroon were lying in the room at first floor of house No. 36, Khayabae-Janbaz, Phase-5, DHA, Karachi. On receipt of the information Station House Officer PS Darakhsan and DSP/SDPO Darakhshan immediately rushed to the spot. Dead body of Mrs. Fariha Razzaq Haroon was lying on the floor near the entrance of the study/sitting room located adjacent to their bed room whereas the dead body of Mir Hazar Khan Bijrani was found in the same room on the couch.
Examination of the crime scene and dead bodies indicated that the death was caused by firearms. Mir Hazar Khan Bijrani received one gunshot in the head, entry from the right and exit from the left. Whereas, Mrs. Fariha Razzaq Haroon received three bullets; one on head – entry from left and exit from right ear – and two on abdomen. The crime scene was secured and properly photographed. Forensic, finger print and investigation teams were called. DVR of CCTV cameras installed at the house have been seized for further examination. The investigation and forensic teams collected relevant evidence including, blood samples, bullet empties, finger prints etc. for forensic/chemical examination. Four empties, three missed bullets, 2 live bullets and a 30 bore pistol were also recovered from the crime scene. Dead bodies were shifted to Jinnah Hospital for post mortem examination.
Proceedings u/s 174 of CrPC have been initiated. Six persons; including two police guards and four domestic servants were being interviewed and questioned in order to collect relevant evidence. They revealed in their initial statements that altercation was going on between husband and wife for last few days on some issue. The house was locked from inside and it was forcibly opened by son and servants of deceased Mir Hazar Khan Bijrani.
On the basis of available crime scene/circumstantial evidence and initial post mortem report it appears that Mir Hazar Khan Bijrai killed his wife and then committed suicide with the same weapon. According to initial forensic/ballistic report of FSL, all the empties collected from the crime scene has been fired from the same weapon."
Bijarani's funeral prayers will be offered today in his ancestral village in Kurrampur, Kashmore after the Friday prayers.
Sindh Chief Minister Murad Ali Shah and other senior leaders of the Pakistan Peoples Party are expected to attend the funeral. A public holiday has been declared in Jacobabad and Kandkot today.