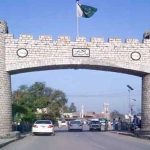 QUETTA: Four including a policeman was killed and seven people were injured in a blast near a police mobile on Monday in Quetta's mini market.
Rescue teams arrived at the scene and security forces cordoned off the area immediately. The injured have been shifted to hospital for medical treatment.
Quetta Deputy Inspector General (DIG) Police Abdul Razzaq Cheema said that four policemen martyred and seven civilians were injured in the blast, while a police van was also damaged.
The blast, according to DIG Cheema, was the result of an improvised explosive device (IED) planted in a motorcycle parked on the roadside. He said security forces were targeted in the blast.
The blast has come a few days after three terrorists stormed a five-star hotel in Gwadar. The terrorists were killed by the security forces during the clearance operation.
During the operation, five people got martyred including four hotel employees and a Pakistan Navy soldier. Six individuals got injured including two Army captains, two Navy soldiers and two hotel employees, said the ISPR.
The luxury hotel is located on the Koh-e-Batil Hill, south of West Bay on Fish Harbour Road and overlooks the Arabian Sea.