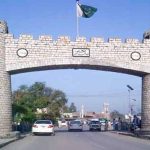 KARACHI: Two people, including a police personnel, were killed and one person was injured in a firing incident in Karachi late last night.
According to SSP South, the incident occurred when two persons in a vehicle opened indiscriminate fire on people in Defense area of the city.
The suspects escaped leaving their vehicle behind when nearby police patrolling party reached the scene.
The SSP said initial investigation shows that both persons were drunk, as police have recovered bottles of liquor and narcotics from their vehicle.
He said one person has been arrested in the case, who was already a wanted suspect for being involved in a murder case, while search for the other is underway.
SP Suhai Aziz added that authorities have traced the owner of the vehicle with the help of its registration number, and raids were conducted at the owner's house.
"Four bullet casings were found from outside the house," the SP shared. "Geo-fencing is being done in the area."
She added that eyewitnesses said two men who looked drunk opened fire on the police constable and the passer-by. The eye-witnesses said the suspects took their time shooting at the policeman and the passerby. "One man was firing and the other was telling him what to do. After the firing, the suspected men locked the car and fled the scene of the crime."
Hospital sources said the third person, wounded in the incident, was shot in the shoulder and is out of danger.