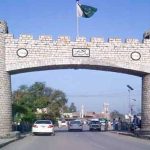 KARACHI: A policeman was shot and killed and a chief of a police station was wounded during an alleged encounter with criminals in upscale Clifton neighbourhood on Sunday.
Police said the encounter took place in Tauheed Commercial area. Police personnel including Clifton SHO Chaudhry Shahid were on routine patrol in their private vehicle when the incident took place. Police officials said that they tried to intercept two suspects riding a motorcycle, however, the unidentified gunmen riding opened straight fire on them and managed to escape from the scene.
As a result of firing, SHO Shahid and head constable Hidayatullah Niazi were injured. They were rushed to South City Hospital, where Hidayatullah succumbed to his wounds.