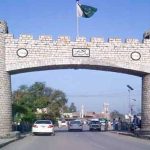 CHARSADDA— One policeman was martyred after assailants hurled two crackers bombs at the main gate of Nasta Police Station in Charsadda on Friday.
Constable Raheem Bacha was killed in the first explosion, which was followed by another one. The explosions, which were caused by crackers bombs, damaged the main gate and boundary wall.
The bomb disposal squad (BDS) said five kilograms of explosives were used in the bombings.
After the explosions, a heavy contingent of police from other police stations rushed to the Nasta police station to cordon off the area.
Images taken after the blasts showed a damaged gate of the police station and what looked like a collapsed sewerage drain.
The martyred policeman was a resident of Charsadda's Bahlola area, the officials said.
Meanwhile, a bomb explosion was also reported in Mohmand tehsil of tribal district Bajaur leaving four people wounded.
According to police, condition two out of four said to be critical.
Police said that two injured persons have been shifted to District Headquarters Hospital while two others have been shifted to Peshawar in critical condition.
Aimwal Wali Khan, provincial president of the Awami National Party, strongly condemned the terror attacks and asked the provincial provincial government to realize its responsibility and adopt effective strategy to deal with the new wave of terrorism in the province.
He said that incidents of terrorism have been taking place in the province for the last several months. Security personnel and government employees, including civilians, are being targeted in parts of the province. The people of Khyber Pakhtunkhwa have suffered immensely in the war on terror. This must be stopped further and the safety of the citizens must be ensured.