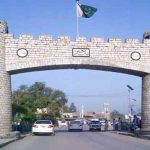 FAISALABAD: A policeman was killed and three others injured in terrorist attack at D-Ground of Faisalabad on Tuesday.
A terrorist also said to be killed in exchange of fire.
According to reports, a police team signalled a suspected vehicle to stop near D-Ground of Faisalabad. The terrorists in the car opened fire at policemen killing a cop on the spot while injuring three others.
An attacker was reportedly killed in police firing. The attackers left the car and fled from the scene after the incident. Heavy weopon & hand grenades recovered from the car.
Police contingents cordoned off the area and initiated a search operation.
CPO Faisalabad Afzal Ahmed has announced Rs. Three Lac reward for anyone who whill inform about the whereabouts of the attackers. The name of the informant will also be kept in secret, the police chief said.