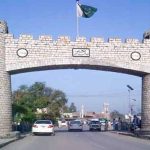 PESHAWAR: A female polio worker was shot at after she vaccinated children during a polo vaccination drive in Bannu on Thursday as anti-polio campaign is underway across Khyber Pakhtunkhwa and FATA amid tight security measures to ensure peaceful conduct of the campaign.
District Police Officer Qasim Ali Khan said that the parents of the children shot at the polio worker as she was leaving their house after vaccinating their children. The parents did not want anti-polio drops to be administered to their child.
A three-day polio eradication drive is underway on its second day across KP and FATA amid tight security.
According to Emergency Operations Center in Khyber Pakhtunkhuwa, more than 5.6 million children below the age of 5-years would be administered anti-polio drops in KP, FATA and Frontier Regions during the campaign.
The health department has constituted 3939 teams for this purpose.
Special arrangements have also been made to administer anti-polio drops to children of Temporarily Displaced Persons (TDP), returning to their native areas.
Polio remains endemic in Pakistan after the Taliban banned vaccinations, attacks targeted medical staffers and suspicions lingered about the inoculations.
They stepped up attacks targeting polio immunisation teams after Pakistani doctor Shakeel Afridi was recruited by the Central Intelligence Agency to set up a hepatitis immunisation drive as part of efforts to track down Al Qaeda chief Osama Bin Laden.
The persistence of this crippling, sometimes fatal virus shows just how difficult wiping out a disease can be, even amid campaigns seeing thousands of vaccinators go into the field to offer polio drops to children, sometimes under armed guard.
Polio teams comprise a very small number of female staff ─ only 20pc of polio team staff in Balochistan is female, Dr Javahir Habib, Unicef's communication specialist for Balochistan had said in 2014.
The KP provincial health department in Feb 2015 began tackling refusals by issuing arrest warrants for parents and guardians who defied vaccination of their children under the Sehat Ka Ittehad (Alliance for Health) initiative. Parents were freed after they submitted an undertaking that they would not oppose immunisation.
Following implementation of these measures, only 23,000 refusal cases were recorded in KP in Feb 2015 against the 47,000 cases in Jan 2015.
In 2014, restrictions were imposed on Pakistani air travellers flying in and out of the country preventing them from boarding international flights without a polio certificate with a year-long validity proving they had been vaccinated.
The purpose of these measures was to prevent the 'export' of polio to other countries after strains of the virus originating in Pakistan had been found in China, Syria and Tel Aviv, raising fears the disease may resurface globally.