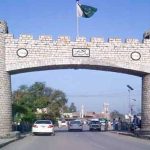 WARSAW: Poland's prime minister has said that Russian President Vladimir Putin has been lying in remarks blaming Poland for the outbreak of World War II, and argued that Putin is doing it to deflect from recent Russian political failures.
"President Putin has lied about Poland on numerous occasions, and he has always done it deliberately," Prime Minister Mateusz Morawiecki said in a statement. "It usually happens in a situation when the authorities in Moscow feel international pressure caused by its actions. And this pressure is not on the historical stage but on the modern geopolitical scene."
Morawiecki pointed to several recent developments that he described as failures for Russia, including Russian athletes being suspended for doping and a failed attempt by the Kremlin "to fully subordinate Belarus to Russia."
He also noted a recent extension of the European Union sanctions imposed following Moscow's annexation of Ukraine's Crimean Peninsula in 2014. In addition, Russia faces new sanctions from the United States over its planned Nord Stream 2 gas pipeline, which Poland and the Baltic states also oppose, fearing it will be used to apply political pressure.
"I consider the words of President Putin as an attempt to conceal these problems," Morawiecki said.