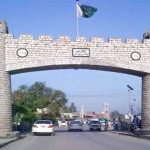 BAHAWALPUR: Prime Minister (PM) Shahid Khaqan Abbassi on Saturday inaugurated forty-five kilometer Jalalpur Pirwala-Uch Sharif section of National Highway near Bahawalpur today.
Addressing a ceremony after the inauguration, the Prime Minister urged all political parties to sit together and reach consensus on the creation of more provinces in the country.
The Prime Minister said the demand of new provinces exists not only in Punjab but voices in this regard are also being raised in Khyber Pakhtunkhwa, Sindh and Balochistan.
He said the PML (N) is the only party which get passed a resolution from Punjab Assembly in support of a new province.
The Prime Minister said it is the PML (N) which has carried out unprecedented development work in South Punjab. We have opened schools, colleges, and hospitals and installed power plants in this region.
He also stressed that the political decisions are not taken at the court rooms but by the people of the country at the polling stations.
Referring to the recent judgment of the apex court against PML (N) Quaid Mian Muhammad Nawaz Sharif, he said the government has accepted the decision but the history will not accept it.
Highlighting in detail the development projects executed by the PML (N) in the entire country, the prime minister said our opponents are scared of the unprecedented development work executed by the government over the last five years.
"We added about 10400 megawatt of electricity to the national grid", he added.
He said we strongly believe in promotion of democratic values and despite all challenges we adhered to the politics of dignity and decency.