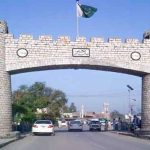 PESHAWAR: As Election Day is approaching nearer, political heavyweights of different political parties accelerated door-to-door campaign in tribal Khyber district where tough electoral battle is expected on two national assembly constituencies on July 25, 2018.
A visit to NA-43 and NA-44 constituencies in Khyber district has revealed that candidates along with supporters and family members are being seen visiting house to house to attract voters attention in their favours.
The candidates speeded up election campaigns by addressing corner meetings and taking out public rallies at Landi Kotal, Bara, Ali Masjid, Jamurd and Torkham areas where people have hoisted flags of different political parties in houses, bungalows and vehicles, which showed immense enthusiasm of people in elections.
Great enthusiasm is being witnessed among tribal youths whose participation in public meetings and election campaigns is overwhelming.
A total of 18 candidates are flexing muscles for NA-43 tribal area-IV including former Federal Minister Noorul Haq Qadri (PTI), Hazrat Wali (PPPP), Doulat Shah (Pakistan Justice and Democratic Party), Sardar Azam (PMLN), Saida Jan (ANP), Atiqullah (JUI-S), Muhammad Ejaz (MMA), independents Ahsanullah, Zarnoor Afridi, Saidgha Jan, Shahzeb, Shakeel Afridi, Shermat Khan, Abdul Raza Shinwari, Abdul Nawaz, Mohibullah Nawabzada Muhammad Shah and former MNA, Shah Geegul Afridi.
However, real contest is expected between former Federal Minister, Noorul Haq Qadri and former MNA, Shah Geegul Afridi on this constituency.
Shahgee Gul Afridi had secured victory from here in 2013 General Election after securing 29697 votes. This constituency is comprising Jamrud, Landi Kotal and Mullagori tehsils of Khyber where literacy ratio is comparatively high.
On NA 44 constituency, a total of 26 candidates are in the run for NA-44 constituency including former Federal Minister Hameedullah Jan Afridi, Sohail Ahmed PPP, Imran Khan ANP, Arif Hussain (PPP) independents Syed Karam Shah, Syed Muhamamd, Syed Nawab, Shah Faisal Afridi, Shamsuddin, Sohbat Khan, Aris Khan, Abdul Qayum and Ajab Khan.
Former Federal Minister, Hameedullah Jan Afridi is considered to be a strong candidate as he had strong roots in the constituency. He had won this constituency in 2008 general election after securing 5660 votes.
This constituency was clinched by Maulana Khalilur Rehman Afridi after securing 5611 votes in 2002 general election. However, Nasir Khan had outclassed political rivals in 2013 general election after securing victory from this constituency. This constituency is comprising of Bara Tehsil and Chora section of Jamrud Tehsil in Khyber Agency.
The major problems of people of this constituencies are unemployment, poverty, poor road infrastructure, lack of education and health services and potable water and any candidate with solid programs for solution of these issues would certainly get an edge over others on July 25, 2018.