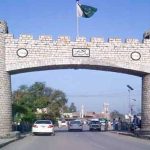 ISLAMABAD: The political leadership of Pakistan Friday visited the homes of martyrs on Defence Day to pay tribute to their sacrifices for the motherland.
Foreign Minister Shah Mehmood Qureshi visited the home of Captain Junaid Irfan Abbasi Shaheed and paid homage to his parents. Living nations always keep their heroes remembered, he said.
Sindh Chief Minister Murad Ali Shah reached the residence of Rashid Minhas Shaheed and met his parents and other family members. The CM saluted the bravery of the mothers of all martyrs.
Special Assistant to Prime Minister on Information and Broadcasting Firdous Ashiq Awan visited Lieutenant Arslan Alam Shaheed's home and said the nation is proud of the families of all martyrs. Today is the day to pay tribute to ghazis [victorious] and martyrs, she affirmed.
Leader of the Opposition in the National Assembly Shehbaz Sharif reached Taimoor Aslam Shaheed's residence in Lahore's Walton area and reiterated that his sacrifice will never be forgotten. He expressed condolences to the parents and stressed that martyrs are national assets.