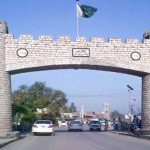 ISLAMABAD: Parliamentary Committee on National Security has expressed the resolve not to make any compromise on dignity and honour of the country.
The resolve came during meeting of the committee held in Islamabad today [Thursday] with Speaker National Assembly Sardar Ayaz Sadiq in the chair.
Later, talking to newsmen, the Speaker said the participants said that all political parties were united to safeguard interests of the country.
Sadiq said we wanted engagement with the United States but with dignity and honour.
He said another meeting of the Parliamentary Committee on National Security would be convened soon to chalk out a plan to meet any eventuality.
The speaker said that officials of defense institutions would also be invited in the next meeting.
Sadiq said today's meeting reviewed the anti Pakistan statements emanating from the US Administration and the participants tried to understand the entire situation.
The meeting was attended amongst others by Foreign Minister Khawaja Asif, Defense Minister Khurram Dastagir, National Security Adviser Nasser Janjua and leader of Opposition in the National Assembly Khurshid Shah.