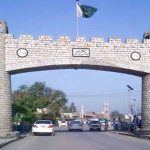 Polling for the second phase of the local government elections in the remaining 18 districts of Khyber Pakhtunkhwa is underway, amid tight security to avoid any untoward incident today (Thursday).
The first phase of local government elections in KP were held in December, where the ruling PTI had suffered a major setback as the opposition parties, particularly JUI-F, won a clean victory.
In a surprise move, JUI-F had emerged as a leading party with 23 seats of tehsil chairpersons and three mayoral seats. However, KP's ruling party PTI had stood second with only one mayoral seat and 18 seats of tehsil chairpersons.
For the second phase, polling started at 8am and will continue till 5pm without any interruption.
A total of 28,020 candidates are in the run for different categories in the polls being held in Abbottabad, Mansehra, Battagram, Torghar, Upper and Lower Kohistan, Kolai-Palas, Swat, Malakand, Shangla, Lower and Upper Dir, Upper and Lower Chitral, Kurram, Orakzai, and North and South Waziristan districts.
The LG elections are being held for the first time in the erstwhile tribal districts of Kurram, Orakzai, North and South Waziristan. Over 8m voters expected to exercise right to vote
According to the ECP, polling is being carried out in 65 tehsils of 18 districts, where a total of 80, 57,474 registered voters will exercise their right to vote, out of whom 44,89,771 voters are male while 35,67,703 are female.
The Election Commission of Pakistan (ECP) has declared 1,646 polling stations "most sensitive", 2,326 "sensitive" and 2,069 normal out of the 6,176 polling stations. Adequate security arrangements have been made for the sensitive and most sensitive polling stations across the province. The ECP data showed that 39,554 candidates were vying for 12,875 seats.
A total of 651 candidates will contest for city mayor and tehsil chairman seats, 12,980 for general and neighbourhood councils, 2,668 for women seats, 6,451 for labour, 5,213 candidates for Kisan and youth seats and 57 have submitted nomination papers for religious minorities' seats.
The election body has informed that a total of 1,318 candidates have been elected unopposed in 65 tehsils.
Some 351 candidates have been elected unopposed on general seats, 533 on women seats, 151 on labour and Kisan seats, 233 on youth seats and 50 on minority seats in Village and Neighborhood Councils.