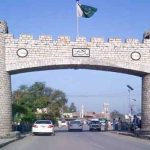 PESHAWAR: Polling is peacefully underway for elections on 16 general seats for the Provincial Assembly in merged districts of erstwhile Federally Administered Tribal Areas (FATA), Khyber Pakhtunkhwa whereas Pakistan Army has been deployed at polling stations for security measures.
Polling will continue till 05.00 pm without any break.
Two hundred and eighty-five candidates are in the run.
Eighty-four candidates are contesting election from the platform of different political parties while two hundred and one are independents.
One thousand eight hundred and ninety-five polling stations have been established for this purpose.
Complaint Centers have also been established in ECP secretariat Islamabad as well as in ECP office in Peshawar.
According to ECP, more than 2.8 million people will vote for the 16 Provincial Assembly seats.
Tight security measures have been taken to ensure holding of the polling in a peaceful and transparent manner. Besides local police, Pak Army has also been deployed in polling stations to help the administration in maintaining peaceful atmosphere in the elections. Pak Army has been deployed inside and outside of 564 sensitive polling stations, while deployed outside the rest of them.
According to updated electoral rolls, in PK-100 Bajaur-I total voters 156,237, Male voters 94,937 and female voters 61,300, PK-101 Bajaur-II, total voters 161,047, male voters 94,349 and female voters 66,698, PK-102 Bajaur-II total voters 216,719, male voters 125,358 and female voters 91,361, PK-103 Mohmand –I total voters 110,477, male voters 68,469, female voters 42,008, PK-104 Mohmand-II total voters 170,022, male voters 106,749, female voters 63,273, PK-105 Khyber-I total voters 167, 484, male voters 94,514, female voters 72,970, PK-106, Khyber-II total voters 148,470, male voters 82,818, female voters 65,652, PK-107, Khyber-III total voters 216,133, male voters 123,683, female voters 92,450, PK-108, Kurram-I total voters 172,897, male voters 99,534, female voters 73,363, PK-109, Kurram-II total voters 187, 844, male voters 105,284, female voters 82,560, PK-110, Orakzai total voters 196,436, male voters 110,741, female voters 85,695, PK-111, North Waziristan-I total voters 141,053, male voters 92,845, female voters 48,208, PK-112, North Waziristan-II total voters 179,124, male voters 117,811, female voters 61,313, PK-113, South Waziristan-1 total voters 218,835, male voters 122,197, female voters 96,638, PK-114, South Waziristan-II total voters 167,994, male voters 115,572, female voters 52,422 and PK-115, ex Frontier Regions total voters 191,062, male votes 116444, female voters 74,618.