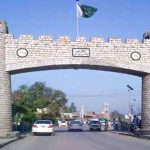 ISLAMABAD: Polling on vacant Senate seat is underway in Punjab Assembly today (Wednesday).
The process will continue till 4:00pm.
At least 358 members of Punjab Assembly are exercising their right to vote. Punjab Assembly has been declared polling station while provincial election commissioner is presiding officer.
A close contest is expected between Pakistan Tehreek-e-Insaf (PTI) candidate Shahzad Waseem and Khawaja Hassan of Pakistan Muslim League-Nawaz (PML-N).
The seat was vacated by PTI's Chaudhry Muhammad Sarwar on assuming charge of Punjab Governor.
Talking to media outside the Punjab Assembly, PTI candidate Dr Shahzad said that he will easily win the election as majority of the members are supporting him.
Meanwhile, PML-N candidate Khawaja Ahmad Hassan has also expressed his hope to clinch the Senate seat.