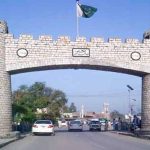 ISLAMABAD: Polling to elect the 13th president of Pakistan for the next five years is underway in the Senate and the newly elected national and provincial assemblies together known as the electoral college of Pakistan via a secret ballot.
The election is a three-way fight between the ruling Pakistan Tehreek-e-Insaf's (PTI) Arif Alvi, Pakistan Peoples Party's (PPP) Aitzaz Ahsan and joint Opposition candidate Maulana Fazlur Rehman.
The tenure of outgoing President Mamnoon Hussain will end on September 8 and he had declined for a re-election.
Polling stations have been set up in the Parliament House and the four provincial assemblies where the NA, Senate members and MPAs are taking part in the voting process. Chief Election Commissioner Sardar Raza Khan is serving as the Returning Officer.
The ECP has barred the members from carrying mobile phones with them at the time of voting. Moreover, personnel of Rangers and FC have been deployed around the Parliament House and the buildings of the provincial assemblies. The polling begun at 10am and is scheduled to continue till 4pm.
The joint Opposition was to field a single candidate, however, several attempts to achieve the required goal ended in vain.
The PPP last month had nominated Aitzaz Ahsan as a candidate, while other opposition parties including PML-N and MMA opposed the move and as the differences persisted, they nominated Rehman.
Despite several requests, none of them agreed to withdraw their candidate in favour of the other which further widened the cracks in the alliance of opposition parties.
On the other hand, Minister for Information and Broadcasting Fawad Chaudhry had claimed that PTI would not face any difficulty in getting its candidate, Dr Arif Alvi, elected as Pakistan's next president as it had garnered the required support.
"The PTI enjoys support of all of its allied parties, including the Muttahida Qaumi Movement (MQM), the Pakistan Muslim League-Quaid (PML-Q), the Balochistan Awami Party (BAP) and the Grand Democratic Alliance (GDA) besides other smaller allies," he said. BNP's Sardar Akhtar Mengal has also ensured that his party will support Arif Alvi in Presidential Election.