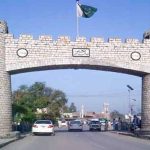 WASHINGTON: US Secretary of State Mike Pompeo on Wednesday said he hope to reset bilateral relations with Pakistan a trusted ally of US in war against terrorism.
Speaking to media in Washington ahead of departing for Pakistan, Pompeo hoped that both countries could turn the page and begin to make progress. "We will have three opportunities to walk through the complexity that is this relationship and hopefully begin to make some progress so that we can get back to set of common understandings. So that's really the very straightforward objective," the US secretary of state regarding his visit.
In what will be the first high-level visit from Washington since the new government assumed office, Pompeo accompanied by Chairman of the Joint Chiefs of Staff General Joseph Dunford will land in Islamabad in the evening today.
The US secretary of state will meet Foreign Minister Shah Mehmood Qureshi and is also expected to call on Prime Minister Imran Khan and Army Chief General Qamar Jawed Bajwa during his brief stay in the capital.
Speaking to the media before his departure, Pompeo also hinted that the Trump administration could release aid to Pakistan that was halted earlier this year.
"Pakistan was told this past summer that they weren't likely to get that money," the US secretary of state said.
Stating that the rationale for Pakistan not getting the money is very clear, Pompeo said, "It's that we haven't seen the progress that we need to see from them."
"And the very reason for this trip is to try and articulate what it is our expectation is, the things that they can do, the things that they expect us to do, and see if we can't find a path forward together," he upheld.
Further, Pompeo said, "We need Pakistan to seriously engage to help us get to the reconciliation we need in Afghanistan."
The US secretary of state stressed on Pakistan's assistance and help to resolve issues related to Afghanistan. He also mentioned General Nicholson and General Miller addressing the issue as well.
Pakistanis have "important interests, security interests in Afghanistan to make sure they get the issues at their border right, and we need their help", Pompeo said.
He was also hopeful that his trip could convince the new government in Pakistan to provide that assistance for reconciliation in Afghanistan.
Two top officials, including US Secretary of State Mike Pompeo, are slated to arrive in Pakistan today (Wednesday) on a one-day visit for talks on bilateral relations and strategic affairs with the newly-elected government.
Pompeo, Gen Dunford to hold meetings with new govt.