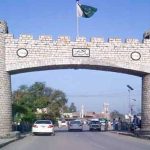 ISLAMABAD: Pakistan Peoples Party (PPP) Chairperson Bilawal Bhutto Zardari said on Tuesday it was his party which laid the foundation of democracy in Pakistan and revolted against every dictatorship.
The PPP chairperson began to address the party workers gathered to at the capital's Parade ground to celebrate the party's golden jubilee today.
He said that it is the third generation of the party which is carrying on the legacy for the sake of democracy.
"I congratulate those who have laid the basis of the PPP and stood against the dictatorship," said Bilawal.
Under the umbrella of dictatorship, the so-called economic progress led to ethnic divides. The resources were only limited to feudal lords and a particular section of the society.
"Benazir raised her voice against terrorists," said Bilawal, adding that the late prime minister always stood against martial law and ended Martial Law Regulation.
PPP Chairperson Bilawal Bhutto earlier reached Islamabad's Parade Ground, along with the party co-chair and former president Asif Ali Zardari.
PPP Co-chairperson Asif Ali Zardari said on Tuesday that his party will not make efforts in future to save the ruling Pakistan Muslim League-Nawaz, adding that former prime minister Nawaz Sharif emptied the national coffers.
Zardari said that whatever will unfold in the future will be on the basis of public's vote.
The PPP co-chair said that on every PPP foundation day he remembers late Benazir Bhutto, who would have been proud to see her son Bilawal Bhutto today.
"I present to you Bilawal," he said, adding "I believe, you people would be loyal to my children the way you were to Benazir and me".
He said that during the five-year rule of the PPP, the government fulfilled Benazir's vision.