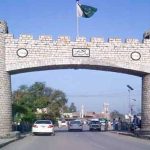 KARACHI: Pakistan Peoples Party (PPP) on Monday has awarded 160 tickets to candidates for the upcoming general elections 2018 on national and provincial seats.
According to details provided by PPP, former president of Pakistan Asif Ali Zardari will contest general election from NA-213 Benazirabad constituency while PPP Chairman Bilawal Bhutto Zardari is going to contest election from NA-200 and NA-246.
Ex-opposition leader Khursheed Shah will contest from NA-206 Sukkur while former federal minister Naveed Qamar will contest elections from NA-228 Tando Muhammad Khan.
For the provincial seats, Faryal Talpur will be the PPP candidate from PS-10 Larkana, Sharjeel Memon from PS-63 Hyderabad while former Chief Minister Sindh Murad Ali Shah will participate in the election from PS-80.
The party also nominated Feroz Niaz Tanoli from NA-245, Abdul Aziz Memon from NA-247, Abdul Qadir Patel from NA-248, Qadir Khan Mandokhail from NA-249, Ali Ahmed from NA-250, Haji Mohammad Jamil Zia from NA-251, Amjadullah Khan from NA-253, Danish Turabi from NA-254, Zafar Siddique contest from NA-255 and actor Sajid Hassan from NA-256 as PPP s candidate.
Moreover, the party has nominated Jam Abdul Karim Jokhio to contest from NA-236, Abdul Hakeem Baloch from NA 237, Aga Rafiullah from NA-238, Syed Imran Haider Abedi from NA-239, Sheikh Mohammad Feroz from NA-240, Muazzam Ali Qureshi from NA-241, Iqbal Sandh from NA-242, Colonel Asad Alam Niazi from NA-244 and Shehla Raza from NA-243 against Pakistan Tehreek-e-Insaf Chairman Imran Khan.
On the other hand, PPP has awarded party tickets to Syeda Yasmin Safdar to contest from NA-35 and Mehar Sultana from PK-88. Syeda Yasmin Safdar will contest against Imran Khan and Akram Khan Durrani from NA-35.