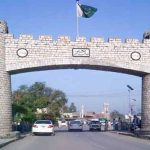 KARACHI: Bilawal House spokesman said that people like Talal Chaudhry seem to be fed up with their own Prime Minister following heat-up of pressure on Panama Leaks but they are too small persons to give reaction on Bilawal Bhutto's press conference.
Reacting to the remarks of Talal Chaudhry, the spokesman said that Bilawal Bhutto is a democratic leader and he believes in democratic struggle instead of empty threats or extra-constitutional measures.
Spokesman further said that there was no secure path for Nawaz Sharif and his Noon League except implementation of four demands of the PPP Chairman.
"PPP's history of movements and political struggles has always recorded the best results for democracy and strengthening of democracy. Call for democratic accountability under the four demands should be taken as seriously by the ruling party," stated the spokesman adding that when Bilawal Bhutto says Dama Dam Mast Qalandar, he means it.
"Jiyalas' records of valiant street movements are unmatched in the history and Nakaam League cannot withstand when Jiyalas jump into the field of struggle," the Spokesman added.