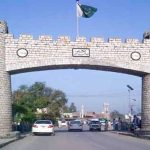 LAHORE: Pakistan Peoples' Party Co-chairman Asif Ali Zardari has warned Pakistan Muslim League-Nawaz (PML-N) for toppling the government.
Addressing a rally in connection with the Kashmir Solidarity Day on Monday, he said that PML-N considered China-Pakistan Economic Corridor (CPEC) as an organization for obtaining loans.
He added that his party would succeed across Pakistan in the upcoming general elections saying that they would win in all the provinces.
The former president also said that the next elections would be free and fair.
He added that several PPP leaders have served behind the bars for the sake of democracy.
While referring to the occupied valley, Zardari said 'Kashmir is our jugular vein'.