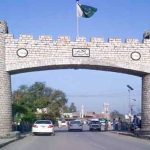 LOWER DIR: Former prime minister and Pakistan Peoples Party leader Yusuf Raza Gilani on Sunday said the PPP gave a new identity to Khyber Pakhtunkhwa and nominated a provincial governor from FATA.
The former prime minister and PPP leader was addressing a rally in Lower Dir which was skipped by PPP chairman Asif Ali Zardari over security issues.
Gilani said that the PPP devolved powers to smaller provinces under the constitution, and relinquished presidential powers to the parliament, and made utmost effort to remove the deprivations and reservations of the provinces during its tenure.
Gilani lauded the sacrifices of the people of Malakand division in the war against terrorism, and said that Pakistan Army had made immense efforts for the peace and security of the area. He said the movement of 2.5 million Internally Displaced Persons (IDPs) made it one of the largest migrations in the world.
He said the PPP accepted the court decision when he was dismissed from the premiership and banned from political office for five years. He said the constitution was formed by Zulfikar Ali Bhutto, but the PPP refrained from an standoff with other institutions to ensure the rule of law and supremacy of the constitution.
He said that those who had written off the PPP were living in fool's paradise, and should realise the PPP is the party which has struggled for the rights of the down-trodden, peasants, labourers and women.
Gilani said the PPP gave a new identity to the Pashtuns, whereas the incumbent government has only called for merger of FATA with KP, and blocked the identity cards of Pashtuns.