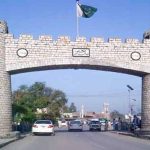 ISLAMABAD: Pakistan Peoples Party (PPP) has raised alarms over the transparency of polling process in the parliamentary elections.
Addressing a press conference here on Wednesday, PPP leaders Raza Rabbani and Sherry Rehman said there seemed to be a clear trend of interference in the polling process.
Raza Rabbani said that PPP's polling agents were expelled from polling stations in Karachi's Lyari.
The ECP and caretaker government have failed to ensure the transparency of the elections, he said.
"There will be severe consequences if public opinion is tempered with," warned the former chairman Senate.