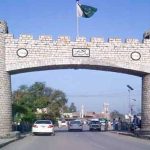 KARACHI: Advisor to Chief Minister Sindh on Information Moula Bux Chandio on Friday said that Pakistan People's Party (PPP) was making preparation for long march.
In a statement, Chandio said that PPP activities would be geared up soon and party Chairman Bilawal Bhutto Zardari would undertake country-wide visit.
He added that if Zardari's joining of Parliament would make no difference, then why there was so panic in the opponents' camp.
He added that Asif Zardari's joining of the incumbent parliament would be a good omen for democracy.
He added that Karachi had never been a no-go area for Imran Khan but it was true that Sindh had never been Imran's priority.
He added that the PTI chief while opposing PPP's Panama Bill strengthening the government.