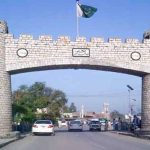 MARDAN: Pakistan Peoples (PPP) senior leader and former speaker Khyber Pakhtunkhwa Assembly Abdul Akbar Khan passed away on Thursday due to cardiac attack. His funeral prayer will be offered at 3:00pm today at his ancestral village in Mardan.
Abdul Akbar Khan was suffering of diabetes, high blood pressure diseases. He was also suffering from brain complications. He is survived by three sons and a daughter.
Abdul Akbar Khan was born on September 1, 1949. He was a senior politician from Mardan. He has been elected as deputy speaker of KP assembly once and MPA five times to the KP provincial assembly in 1988, 1990, 1993, 2002, and 2008 on Pakistan Peoples Party Parliamentarians ticket.
He belongs to a small village Spenkai, Palodheri in Mardan. His father, Sher Akbar Khan, was a local land owner. Abdul Akbar Khan got married in 1969 and then he married a second time in 2000, into a very well known family in Dir district. He has two children, a daughter named Malaika Akbar and a son named Abdal Akbar. He has a LLB degree. He is introducing his daughter Malaika Akbar to politics.
He contested first election in 1970. Khan started his political career in the early 1970 from the PPP platform and quickly rose its ranks. After the 1988 General Elections, he was appointed Deputy Speaker KP Assembly. He became the Speaker KP Assembly in 1993. He also served as PPPP parliamentary leader in the KP Assembly from 2002 to 2013.