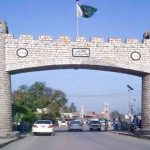 LAHORE: Senior PPP leader and former secretary general of the party, Jehangir Bader passed away on late Sunday night.
He was rushed to a private hospital in Defence area of Lahore after he suffered a heart attack. He was also suffering from kidney problems.
Bader was placed in the ICU, where the doctors made their best efforts to save his life but he could not recover.
The PPP leader was among the close aides of former prime minister slain Benazir Bhutto. He also served as the Secretary General of PPP for several years.
He was first elected as MNA in 1988 from Lahore on PPP ticket, and was appointed Federal Minister for Petroleum and Natural Resources by Benazir Bhutto.