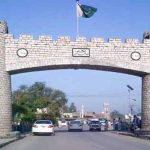 SUKKUR/KARACHI: The PPP leaders and Sindh government Thursday strongly reacted to the Interior Minister Chaudhry Nisar Ali Khan's press conference and accused the interior minister of disturbing peacefully environment and creating problems for the prime minister,
Addressing a press conference in Sukkur, the opposition leader in National Assembly Syed Khurshid Shah rejected Nisar's charges of getting personal benefit from the government and said that if Nisar's charges proved then he would quit the politics.
The opposition leader said that he would respond to Nisar's charges at the parliament in presence of the prime minister. He said that if Nawaz Sharif remained silent over Nisar's rhetoric, then they would believe that the prime minister was also backing Ch Nisar's activities.
He said that the PPP did not save the government, but stood with the democracy. He said that the PPP convinced the Prime Minister on not accepting the MQM resignations.
He said that the PPP had set up many judicial commissions on terrorism cases. He said that the judicial commission should be formed to investigate APS and Bacha Khan university. He said that the government failed to repatriate the IDPs of the FATA.
He said that Ch Nisar was suffering from Dr Asim phobia. He maintained that the interior minister was not interested in implementation of the National Action Plan against terrorists as he was grieved when Hakeemullah Mehsud was killed.
"How could an ailment come in the way of condemning the attack (on Charsadda University)," he wondered, adding he (Chaudhry Nisar) could have invited PTV for a minute and condemned the attack.
He said whenever the government was in trouble, he and his party came out to save the system for the sake of democracy. "I or my party did not save the government, we only saved the democracy," he added.
PPP is not reacting to the arrest of Dr Asim Hussain. "His case is being handled by the courts and we have nothing to do with it," he added.
"It seems as if only one person knows how effectively the National Action Plan (NAP) has been implemented while the entire media, intellectuals and parliamentarians are ignorant," he said.
He said whatever this one person says only reflects a mental sickness.
Nisar Ali Khan in his first media interaction since the deadly assault on Charsadda's Bacha Khan University, denounced the PPP for its criticism of the federal government over the National Action Plan.
Hours after Chaudry Nisar Ali Khan's press conference, Maula Bux Chandio, Sindh Information Advisor, along with PPP Senator Saeed Ghani accused the interior minister of speaking lies and singling out the Pakistan People's Party (PPP).
The PPP leaders said law and order situation improved due to Pakistan army. They also accused the interior minister of having a soft corner for the Taliban elements. "Whatever Chaudhry Nisar said is nothing more than lies," said Saeed Ghani.