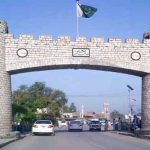 KARACHI: Senior MQM-Pakistan leader Khwaja Izhar-ul-Hassan on Monday alleged that certain members of Pakistan Peoples' Party (PPP) are behind unrest in Karachi, adding that his party would soon reveal their names.
The MQM-Pakistan leader was addressing media where he maintained that Musharraf's tenure was better than that of the PPP.
The party will bring a white paper against jobs allegedly "sold" by PPP, said Khawaja Izhar. He said that the matter of 0.29 million jobs will be taken up in court. "Will issue white paper over the matter of those jobs," said Khawaja Izhar.
Izhar-ul-hassan said the business of fake domiciles will be busted and this will be the first issue to be taken up in court.
He alleged that money is being extorted from Karachi Metropolitan Corporation and District Municipal Corporation and the names of those involved will be revealed sonn.
Meanwhile, MQM-Pakistan leader Faisal Sabzwari said that in the name of quota system injustice is being done to urban Sindh.He said that the PPP is constantly putting blame on MQM-Pakistan.
Sindh government is deliberately neglecting Karachi, Faisal Sabzwari added.