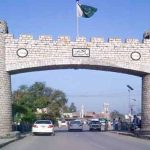 ISLAMABAD: Pakistan People's Party (PPP) senior leader Syed Khursheed Shah on Friday announced to boycott government's briefing on the National Action Plan (NAP) in the Foreign Office.
The government should brief the parliamentary leaders in the parliament and take house into the confidence over the NAP rather than in the FO.
Taking a jibe at Prime Minister Imran Khan, the PPP leader said, the premier was not willing to attend the parliament session.
Earlier in this week, Foreign Minister Shah Mehmood Qureshi at the advice of Prime Minister Imran Khan had dispatched a letter to the heads of parliamentary parties for a consultation on the NAP on March 28.
"The meeting is to highlight the objectives of National Action, which also includes not allowing the use of our soil for terrorist activities against any other country", the letter read.
It further states that National Action Plan (NAP) is reflective of national consensus on the issue of terrorism. It says that implementation of the plan is in the long-term interest of Pakistan.
The foreign minister had said the consultation is part of the government's commitment to swift implementation of Pakistan's national strategy.