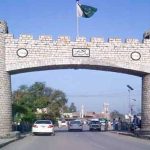 ISLAMABAD: Pakistan People's Party (PPP) is observing black today across Pakistan against the ouster of the then prime minister of Pakistan Zulfiqar Ali Bhutto by the former president general Ziaul Haq through a military coup.
General Ziaul Haq had suspended the constitution of Pakistan and kicked out the existing democratic government on July 5, 1977 by imposing martial law throughout the country.
Zulfiqar Ali Bhutto was sentenced to death on charges of murdering Nawab Mohammad Ahmed Khan and was hanged on April 4, 1979.
The PPP will conduct different programs public gatherings and rallies and protest demonstrations across the country.