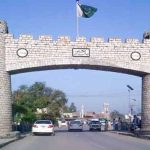 KARACHI: Pakistan People's Party (PPP) and Pakistan Tehreek-i-Insaf (PTI) will hold separate public gatherings here in the metropolitan city today.
PPP will flex political muscle in Jinnah garden situated right next to Quaid's mausoleum.
A 120-foot long stage has been prepared whereas party banners and flags have been placed in surroundings of the ground.
PPP Chairman Bilawal Bhutto Zardari and other party leaders will address the gathering which has been scheduled to begin at 4pm.
Meanwhile, PTI is also set to organize a public rally in a ground near Aladdin Park on Rashid Minhas Road here in the provincial capital.
Preparations for the rally have entered in the final phase.
A 60-foot long, 40-foot wide and 60-foot high stage has been prepared for the party leaders to address the rally.
PTI leader Haleem Adil Sheikh has said that they would conduct an exemplary power show.
Similarly, female workers of PTI maintained that they had completed all the preparations and would make the rally memorable.
PTI workers have urged the Karachiites to come forward for transforming the city into a better place.
Let it be known that both the parties had earlier indulged into clash over venue for 12 May rallies with both the political stake holders wanted to hold rallies at Hakeem Saeed Ground.