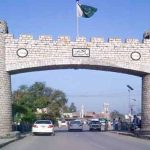 ISLAMABAD: Opposition leader in National Assembly Khurshid Shah has said on Saturday that Pakistan People's Party (PPP) stands by the democracy and the parliament.
In a statement given today, the opposition leader said that religious matters should not be used for 'political slogans'.
Shah's statement has come in at a time when Pakistan Rangers have taken the lead in Faizabad operation against protesters belonging to religious parties who camped in outskirts of Islamabad late October.
PPP chairman Bilawal Bhutto Zardari had earlier said that PPP invariably stood by democracy and the institutions.