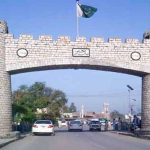 PESHAWAR: Announcing to open party secretariat in FATA, the Pakistan Peoples Party co-chairman Asif Ali Zardari on Monday said that after extension of political parties act to FATA by PPP government, every one is now able to carry out political activities in tribal areas.
Addressing FATA convention here, Zardari said the PPP government had increased funds for FATA from Rs3 billion to Rs19 billion. "Whatever we did is in front of everyone," the former president said.
"We want FATA merger in Khyber Pakhtunkhwa and not be a slave to a governor and the president," he added. Zardari further said that his party wants the region to have its own high court.
He claimed that he will strengthen his party in the region and will ask its people before distributing party tickers. He said that he wanted the son of poor labourer to become minister in the PPP government. He said that the PPP had five ministers from FATA. He said that it was PPP which gave identity to Khyber Pakhtunkhwa.
The PPPP president said that the PPP was not allowed to campaign during last general elections. However, he added, this time Bilawal, Assefa and he would be campaigning during general elections. He asked the party workers and leaders to strengthen the party in their respective areas.
He said that he would visit FATA very soon.
Zardari asserted that 'show' run by Chairman of Pakistan Tehreek-e-Insaf (PTI), Imran Khan and Pakistan Muslim League-Nawaz (PML-N), Nawaz Sharif is over . He said that PPP cannot witness people of Federally Administered Tribal Areas (FATA) enslaved by a governor.
While pledging to construct Hydel Dam in Swat and other projects in FATA, Zardari said he still remember each and every promise Zulfiqar Ali Bhutto had made with the people of tribal areas. We want to see FATA's own high court and the Supreme Court registry.
Speaking about the CPEC project, Zardari said it was planned for FATA and not for Islamabad. He vowed to bring reforms in tribal areas after coming into power.