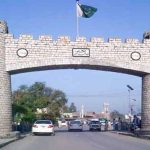 LAHORE: Pakistan Peoples Party Senator Saeed Ghani reiterated the party's stance towards former prime minister Nawaz Sharif and remarked that PPP will never support Nawaz.
"PPP will not support Nawaz Sharif at any cost," he said while speaking to media at Mazang area of Lahore on Thursday.
"Nawaz thinks that he can run everything himself," he said. "In such a difficult time, he must do everything himself now."
He remarked: "We want democracy to prosper in Pakistan. We will stand against all anti-democratic forces."
On the rigging of elections, he said that people in Karachi would 'cast' their votes in favour of one party but were affiliated with a different party. "If people are not allowed to vote freely than the city's situation will deteriorate," he added.
On the recent collaboration between Pakistan Tehreek-e-Insaf (PTI) and Maulana Sami-ul-Haq, he said that it is not unexpected.
He also criticised PTI Chairperson Imran Khan and alleged that he was representing the political wing of Taliban. "Imran is a representative of the Taliban".