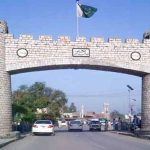 BAHAWALPUR: Pakistan Peoples' Party (PPP) Chairman Bilawal Bhutto Zardari on Sunday said that his party cannot participate in Jamiat Ulema-e-Islam-Fazl's (JUI-F) sit-in in Islamabad.
Talking to media after inquiring about the health of those injured in Tezgam fire incident at Victoria hospital in Bahawalpur on Sunday, he said that this wasn't the first incident, adding that such incident should be investigated.
Minister for Railways Sheikh Rasheed Ahmed should immediately tender his resignation, he said.
The PPP chairman expressed concern over treatment of injured people and said it is the government s responsibility to help the victims of the Tezgam fire incident. Punjab government should fulfill its responsibility.
Bilawal while declaring Jamiat Ulema-e-Islam-Fazl (JUI-F) chief's statement as political said that Maulana Fazlur Rehman didn't ask that Prime Minister Imran Khan would be dragged from inside his house.
To a question, he said Imran Khan said he will be an ambassador of Kashmiris, but what message is he giving to Kashmiris by opening Kartarpur corridor, adding that the government should review its foreign policy.
Regarding JUI-F's sit-in, Bilawal said that his party's narrative regarding sit-in is same and the PPP cannot take part in the sit-in, however, the decision could be reviewed if the party's core committee and CEC made any decision.
"The democratic forces would democratic forces will be forced to take undemocratic steps if the government does not correct its direction," the PPP chairman said.