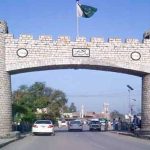 KARACHI: Pakistan Peoples Party (PPP) Sindh announced to hold province-wide protest against arrest of former president Asif Ali Zardari.
PPP Sindh President Nisar Khuro said that the PPP would observe Tuesday as black day against arrest of Asif Ali Zardari.
Meanwhile, the PPP workers staged protest demonstrations in different parts of the country including Karachi, Sukkur, Lahore, Nawabshah, Larkana. They blocked the roads and put tyres on fire. They were holding party flags and placards inscribed with slogans against Zardari's arrest.