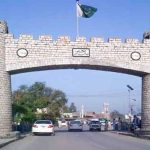 NAGARPARKAR: Pakistan Peoples' Party (PPP) chairman Bilawal Bhutto Zardari on Saturday said that his party was fighting against unemployment, poverty and cruelty.
Addressing a public rally here, he said that PPP's manifesto has always been people-friendly.
He added that this was his first election campaign adding that the party had just begun.
Bilawal said that he did not want power for himself but for the people and said if voted to power, he would resolve the issues of the peoples.
He also said that the masses would defeat the politics of conspiracy.