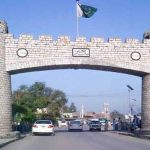 KARACHI: Pakistan People's Party (PPP) leader Nabeel Gobal has manhandled a passenger at the Jinnah International Airport Karachi.
The incident was caught on camera, in which, Gobal can be seen being infuriated towards a passenger.
The incident occurred when Gobal lost his temper after the passenger passed taunting remark over Lyari's destruction, said media reports.
The PPP leader manhandled the passenger, abused him, shoving and causing him to fall to the ground.
However, the airport staff did not intervene to stop the fight.
On the other hand, airport police denying the incident said that no first information report (FIR) of such incident was reported.