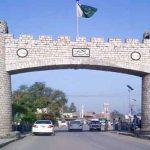 NATHIAGALI: Former federal minister and a senior leader of the Pakistan Peoples Party Nazar Mohammad Gondal Tuesday joined the Pakistan Tehreek-e-Insaf quiting the PPP.
Talking to media here on this occasion, the PTI Chief Imran Khan said that along with the old PPP members (who are joining the PTI) a new Pakistan would be formed.
The PTI Chairman welcomed the leader into the party fold.
Nazar Gondal on the occasion said that with a heavy heart he has bid farewell to the PPP.
Imran Khan said that many members of the PML-N wanted to join his party but could not due to fear of reaction.
Nazar formerly served as a Federal Minister for Capital Administration & Development.
Gondal is the third PPP leader to join the PTI recently.
Earlier, Noor Alam Khan, who is a close aide of Asif Zardari, and former federal minister Firdous Ashiq Awan joined PTI on May 23rd and 30 respectively.