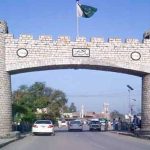 LARKANA: Chairman Pakistan Peoples Party Bilawal Bhutto Zardari Thursday announced that the PPP's struggle for acceptance of its four demands would continue in parliament and on the streets.
Addressing Zulfikar Ali Bhutto birth day celebration function here, Bilawal said that he would contest by-elections from Larkana and start his parliamentary political career. He said that the combination of Zardari and Bilawal would give tough time to the PML-N government in parliament.
He said that the PPP struggle for acceptance of four demands would continue simultaneously in Parliament and on streets.
Earlier, Bilawal visited the annual free eye camp at Garhi Khuda Bux and inquired about the health of patient.
Three-day Free Eye Camp is an annual feature during the Birthday celebrations of Shaheed Zulfikar Ali Bhutto in Naundero since last 22 years started on the directives of Shaheed Mohtarma Benazir Bhutto and is organized by Peoples Doctors Forum headed by Senator Dr Karim Khwaja.
Bilawal Bhutto Zardari met with the patients and distributed gifts among them. Some of the patients and attendants remembered that Shaheed Mohtarma Benazir Bhutto also used to visit the annual camp and appreciated Chairman PPP for continuing the tradition.
Meanwhile, Pakistan Peoples Party (PPP) and Pakistan Peoples Party-Parliamentarian (PPPP) have decided that PPP Chairman Bilawal Bhutto Zardari and PPPP President Asif Ali Zardari will contest by-elections on National Assembly seats on common electoral symbol of Arrow/Teer.
An application for allotment of common electoral symbol shall be made to the Election Commission of Pakistan (ECP) in terms of Political Parties Order 2002, said a Press release issued from Media Cell Bilawal House today.
Media Cell Bilawal House has denied a news item published in a section of media today claiming that both Bilawal Bhutto Zardari and Asif Ali Zardari will contest NA election on different symbol.
"Decision to contest by-election was taken at the Central Executive Committee (CEC) of the Party," the Press release added.