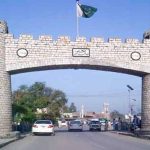 PESHAWAR: Khyber Pakhtunkhwa Chief Minister Mahmood Khan on Wednesday said preparations for local body elections in tribal districts are complete adding that Atif Khan, the committee's chairman, is out of the country and work will resume when he returns.
Talking to media the chief minister claimed that the National Accountability Bureau (NAB) had summoned him as a witness in the Malam Jabba land lease case. "National Accountability Bureau has called me in the capacity of a witness, I have no connection with this case," the chief minister told media. He added that he had received NAB's notice and would present himself in court as he respected the country's institutions but clarified he was not being called as an accused.
According to NAB officials, Mehmood will be questioned about his alleged involvement in the scam as he was running the provincial ministry for sports during the last Pakistan Tehreek-e-Insaf (PTI) government in KP.
The anti-corruption watchdog has already summoned the Minister for Youth Affairs, Culture and Tourism Atif Khan and PTI Senator Mohsin Aziz for their alleged involvement in the same leasing scandal in Swat district.
Both Khan and Aziz have been summoned on December 14 where they will be questioned about their alleged corruption.
A 275 kanal plot of land was allegedly leased out in Malam Jabba to Atif's relative, which according to NAB officials, incurred losses to the national exchequer.
Federal Minister for Defence Pervez Khattak and Prime Minister Imran Khan's Principal Secretary Azam Khan have already recorded their statements in this regard.
Senator Mohsin was also called to record his testimony as he was then chairman of the Khyber-Pakhtunkhwa Investment Board. He, however, had resigned shortly after his appointment for unknown reasons.
An advertisement published on March 3, 2014, about the Malam Jabba ski, chairlift and hotel project read stated the provincial government would arrange land measuring approximately 275 acres – five acres for hotel and 270 acres for ski resort/chairlift for a period of 33 years.
Bids were received from three parties. On the recommendation of a sub-committee, all the three firms were asked to give a presentation to the main committee. The successful bidder TCKP was asked to draft an agreement with the Samson's Group.
The cabinet, in its meeting held on April 25, 2018, was briefed about the lease of land for the Malam Jabba chairlift and hotel. It was highlighted that the land measuring around 12 acres was leased for the chairlift and hotel while 257 acres would merely be used for roaming facility.