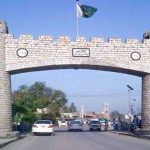 ISLAMABAD: President Mamnoon Hussain administered the oath to the interim cabinet of caretaker PM Justice (retd) Nasirul Mulk on Tuesday.
The oath-taking ceremony happened at the President House. The cabinet includes former State Bank governor Shamshad Akhtar, former Pakistan ambassador to the US Abdullah Hussain Haroon, former senator Roshan Khursheed Bharucha, Mohammad Yousuf Sheikh, Mohammad Azam Khan, and Syed Ali Zafar.
Justice (retd) Mulk took oath as the caretaker PM on June 1, a day after the government completed its five-year term. Pakistan polls its next government into power on July 25.