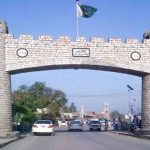 ISLAMABAD: President Dr. Arif Alvi has called for creating skilled human resources to compete with world in various sectors of life.
He was addressing the graduation ceremony of 35th Air War Course at Pakistan Air Force Air War College Faisal in Karachi on Wednesday.
Dr Arif Alvi said that targets of development could only be achieved today by fully mobilizing human resources and adopting technological advancements and modern methods.
The President lauded the services of the armed forces of Pakistan and said that they are real defenders of the motherland.
As per reports, 70 officers of all the three armed forces of Pakistan and friendly country passed out— 35 from Pakistan Air Force, ten from Pakistan Army and seven from Pakistan Navy.
Participants from Bangladesh, Sri Lanka, Indonesia, Malaysia, Jordon, Yemen, Saudi Arabia, Nigeria, and Iraq were also part of the course.