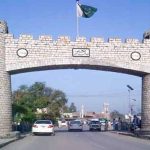 ISLAMABAD: President Mamnoon Hussain will address the joint session of the two Houses of the Parliament tomorrow.
For this purpose the joint session will meet at Parliament House in Islamabad at 11:00 a.m.
The President's address to the Parliament's joint sitting will mark the advent of third parliamentary year of the PML-N government.
The Presidential address to the joint parliamentary session at the advent of a new parliamentary year is mandatory under the Constitution.
In his address, President Mamnoon Hussain will highlight the achievements of the Government during the last two years which include economic revival, steps taken to address energy crisis, launching of China-Pakistan Economic Corridor and other mega projects for speedy socio-economic uplift of the people and the country.
He is expected to give guidelines to the Government for further improving its performance in the coming years with particular focus on the betterment of people through expediting efforts for poverty alleviation and upgrading the standard of living of the people.