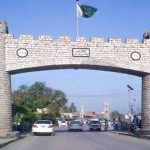 ISLAMABAD: President Mamnoon Hussain and Prime Minister Shahid Khaqan Abbasi have strongly condemned the terrorist attack on Bethel Memorial Methodist Church in Quetta that killed eight people and injured 31 others.
In their separate statements, they prayed for the departed souls and expressed sympathies with the bereaved families. The President said these cowardly attacks cannot shake our resolve to fight menace of terrorism.
Interior Minister Ahsan Iqbal said in his condemning statement that the attack on church is tragic and cowardly. He said anti-state elements want to spread violence in the country but we will continue war against terrorism till the complete eradication of such elements from the country.
The Minister said Islam teaches us respect of minorities and their places of worship. He said the protection of religious freedom of minorities is duty of the whole nation.
Federal Minister for Defence Engineer Khurram Dastgir Khan has strongly condemned the suicide attack on the church in Quetta. He expressed deep grief at the loss of innocent lives.
In his condemnation message, he said Pakistan's resolve against terrorism cannot be deterred by these cowardly acts.
Speaker and Deputy Speaker National Assembly have also condemned the attack in Quetta. They expressed deep grief and sorrow over the loss of precious lives in the attack. They said terrorists have no religion, they are enemies of humanity.
They said all religions condemn such act by terrorists of targeting places of worship for their nefarious designs.
Governor Balochistan Muhammad Khan Achakzai and Chief Minister, Sardar Sanaullah Zehri have strongly condemned the bomb explosion. They have directed health authorities to provide best medical treatment to the wounded persons.
Foreign Office Spokesperson Dr Muhammad Faisal has condemned the terrorist attack. In a tweet message, he said Pakistan's resolve against terrorism cannot be deterred by these cowardly acts of terrorists.